TEAM GP is a company build from enthusiasm for anything and everything wheels. In our group have many years of collective experience in patternmaking, mould making and general fiberglass work. We also have an experienced, full mechanical workshop. We undertake fleet maintenance, restorations, general mechanical maintenance and repairs, and full engine conversions. We have some Lexus conversions, V8 conversions, and a lot of diesel conversions, to a variety of vehicles under the belt.
GP workshop has been a longstanding customer of the TEAM4 group and so has TEAM4 been a longstanding customer of GPSA/ GP Workshop. We decided to combine or forces, drive and passion and bring it all to one name and one goal. TEAM GP
We manufacture Jeep fibreglass replacement bodies for the CJ2 or flat fender, The CJ7 and early YJ Wrangler. We also manufacture hardtops. Our current range includes a CJ5 hard top, and CJ7 hard top, and Wrangler YJ hard top. In the near future we will also offer a CJ2 hard top, as well as Wrangler TJ hard top. Matching doors will be available with all of these.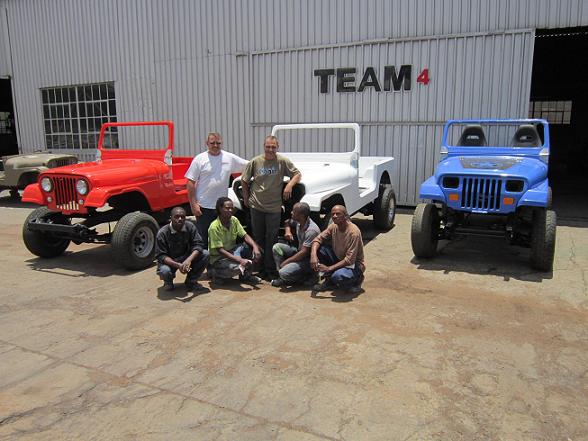 We are also in very early stages of development on ou replacement body kit, for the Jeepster Commando. As soon as enquiries start pressing too hard, a kit will be available shortly.
We have done many restorations on early steel bodied Jeeps, and will undertake your project too. Build time and budget can be tailored to suit your pocket.
We are the true one stop shop for your motoring needs. We share the enthusiasm for the Jeep brand, and others alike, and would like to be a part of your project vehicle.
We have build many friendships around building dream cars. Talk to us about your dream car, we may just have the plan to bring it to reality.